5 of 5 | Google Reviews
My name is Juliana, owner, and operator of Amazing Maids. Thank you for taking the time to visit our website to learn more about what we do. We are a locally owned professional cleaning company located in Holliston, MA. We've helped hundreds of clients keep their homes and offices clean and sanitized for over 16 years. Whether you're looking for a deep cleaning or recurring cleaning services we can help you. Get a free estimate and schedule your next cleaning appointment in minutes online. If you need more information contact us and we can develop a cleaning plan for your home or office that suits your needs.
Special Offer
Promotional rate for new clients!
$25.00 off your first cleaning
Some restrictions may apply!
We invest in education because we believe that having an educated and well-equipped company results in outstanding work and excellent customer service.
Proud Partner of Cleaning For a Reason!
Cleaning for a Reason is a nonprofit that provides residential cleaning services for people undergoing treatment for any type of cancer. This amazing organization has served over 41,223 cancer patients and donated over $14,131,616 worth of cleaning services. If you need assistance or know someone who might contact us and we will help you schedule a cleaning free of charge.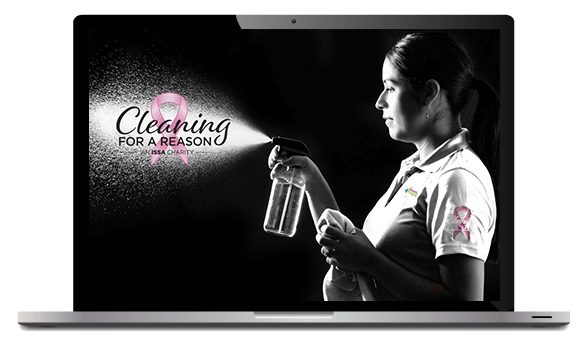 CANCER PATIENTS RECEIVE THE GIFT OF FREE CLEANING!
We are the best-rated cleaning service in the MetroWest area.You don't have to look any further. We will help you solve all your cleaning problems.
Family Owned and Operated
We are the local house cleaning company you're looking for. With over 14 years of experience under our belt, we have what it takes to provide you with the best cleaning services.
Professionally trained staff
Our team members are trained properly to guarantee the best results. They are trained to take care of your property with the utmost respect while providing the highest quality service.
100% Satisfaction Guaranteed
We stand by our promise and reputation. We work with our clients until they are 100% satisfied. You can rest assured that you will get the best cleaning service guaranteed.
Licensed, Bonded and insured
We are the local house cleaning company you're looking for. With over 14 years of experience under our belt, we have what it takes to provide you with the best cleaning services.
Outstanding Customer service
Our number one priority is to provide you with the best customer service. We are here to help you from the moment we answer the phone to the moment the job is completed.
Here to make your life easier
With easy online booking, you can schedule your cleaning in just a few minutes. You can also contact us personally and schedule a cleaning that suits your needs.
House Cleaning
Amazing Maids offers recurring house cleaning services designed to address all your cleaning needs. We clean all kinds of homes and apartments. We can handle any size, layout, and living space conditions.
Office Cleaning
Many workers spend a lot of time in the office. It's crucial that their workspace be clean and organized for a healthier and more productive environment. You will be amazed at how pleasant it is to walk into a clean office.
Sanitization Service
We are here to help reduce the spread of viruses and bacteria in your home. We are using 10-point disinfection to clean all the high touch surfaces in your home and office. Let us help you stay safe and together we will get through this.
Post Construction
Your property can get very dusty after any construction job. We can easily remove as much dust as possible with our HEPA filtration certified vacuums. Don't waste time doing all the heavy cleaning after a construction job. Let us do the dirty work!
Tenant Turnvover
If you're a landlord or a realtor looking for a cleaning company that will prepare your property for a showing or for a new tenant we can help. We provide all the equipment and cleaning supplies.
Deep Cleaning
Now more than ever it's important to get your property thoroughly cleaned. We can help by providing a complete top to bottom deep cleaning. Your home will be completely cleaned and sanitized. We will make your home and office sparkle again.
Serving The MetroWest Area Since 2006
Holliston, Ashland, Sherborn, Medway, Millis, Milford, Franklin, Norwood, Natick, Medfield, Wellesley, Westwood, Dover, Norfolk, Framingham, Hopkinton, and more…
Cleaning interval options
• Weekly
• Bi-weekly
• Monthly
• One Time Cleaning for Special Events
Book your cleaning today and let us take one more thing of your to do list!
Whether you need your property ready for a special occasion or simply need help keeping your home clean, sanitized, and disinfected on a regular basis we got you covered. Schedule your next cleaning service in less than 60 seconds!
Gift Certificates
You can be thoughtful and surprise your loved ones with the ultimate gift of house cleaning for a year! This is a perfect way to give someone you love a clean and healthy home they can enjoy. The gift of cleaning is an amazing idea for all special occasions. It's perfect for birthdays, Valentine's Day, Mother's Day, and Christmas.  
A CLEAN HOME IS A SAFE HOME
Our goal is to make your home a cleaner and healthier living space.
CLEANING DAY IS THE BEST
There's nothing more satisfying than arriving into a clean, organized, and safe home.
A healthier Workplace
Increase productivity in a  healthy and clean work environment.